Windows Super User, Michael Maardt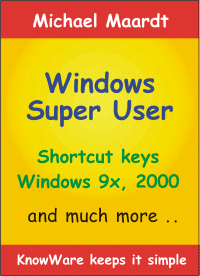 This text replaces the Text Escape from the Mousetrap, that has been free on this homepage since 1997. Escape from the Mousetrap was downloaded more than 400.000 times 1997-2002.
This text only exists in digital form, as a PDF file and as Web pages. (2002) Links mentioned in the text: see further down on this page.
Comments from readers:
"In my opinion you are doing a great service to the world of Computing."

"I can only say that I have never seen such a concise and comprehensive guide on using Windows (and I speak as a very experienced PC user - over 6 years, including programming, system administration and user support.)"
Table of Content
About this text
NOT for beginners
You are lazy!
Windows Versions
A few words about myself
History
Keyboard and mouse
Updates on the website
Money
Translators wanted
Why Super User?
My Intention
My experiences
Why Super User?
Windows Explorer
Right arrow logic
Left arrow logic
Tip to avoid the A: drive
Speed search
Space (left-hand pane only)
Backspace
Home, End, PgUp, PgDn
Ctrl+Home/End/PgUp/PgDn
* asterisk – left-hand pane only
Advice when navigating
Select several files, but not all
Selecting single scattered files
Reverse selecting
Adjusting columns (mouse)
Adjusting columns (keys)
Object properties

Folders
Drives
My Computer
Desktop
Windows Explorer and keys
F2 - clever use of
Alt+TAB
The Alt key - important!
Starting programs with one key press
Programs on the Start Menu
Properties of a shortcut file
Starting Explorer from ...
A cheat
Open files quickly using Explorer
2 copies of Windows Explorer
Win Explorer: Finding and displaying folders and files
Misc
Favorites: organise
Managing folders
Backup
BATCH files for backups
Recently opened documents
Files: regular destinations
Restart Windows
Shutting down the computer
All roads lead to… the operating system!
General
Shortcuts
F2
Packer und entpacker
FTP - Ctrl+F
Browser